3 Cooking Tips To Reduce Fire Hazards
11/8/2021 (Permalink)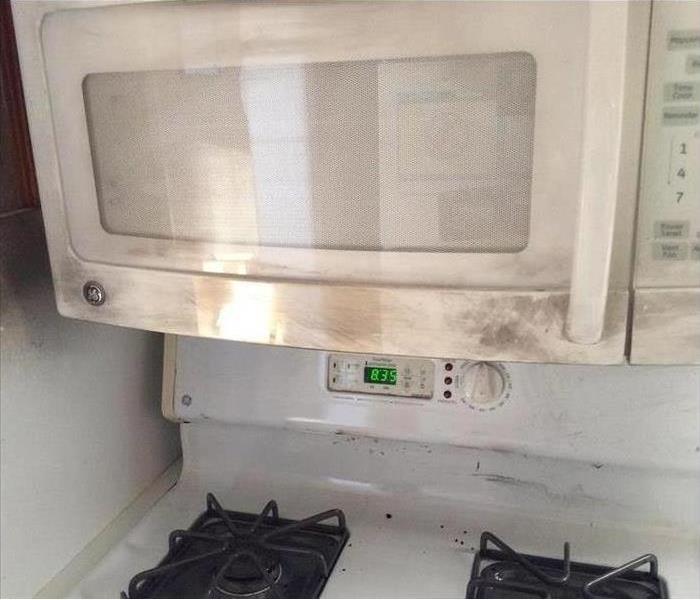 This home had a fire loss that started in the microwave and spread from there. SERVPRO responded quickly and repaired all the damages.
3 Fire-Resistant Cooking Techniques
It is not difficult to prevent kitchen fires, but awareness and attention are necessary. Here are three fire damage prevention tips to avoid a grease fire.

1. Use Grease Safely

Grease fires are very hot and can cause extensive damage in a kitchen. Heat any cooking oil or grease slowly to a safe temperature and exercise caution when adding food. Remove as much moisture from food as possible before cooking in fat, and never cook frozen food in hot grease. Keep a Class K extinguisher between the kitchen and the nearest exit. Baking soda and salt can cause a chemical reaction that can put out grease fires, or you may be able to smother a fire with a cookie sheet or metal pot lid.

2. Monitor Cooking Food

A key safety tip is to remain in the kitchen to monitor food while it is cooking. This will ensure that you see and smell smoke and can suppress a fire as soon as it starts. If you do need to leave the room, set a timer that will remind you to check on food and prevent it from getting burned or starting a fire.

3. Organize the Kitchen

A kitchen should be organized with basic fire safety in mind. Avoid storing cooking utensils, oven mitts, or pot holders anywhere near the stove. It is also a good idea not to hang curtains or leave towels or other combustible textiles close to heating elements.

These tips can significantly reduce the risk that a grease fire will start in the kitchen of your home in West Orange, NJ. If a fire does break out, do everything you can to suppress it without compromising your safety. You may want to call firefighters to ensure that the fire is extinguished and poses no further danger. A residential fire damage mitigation and restoration service can fix any damage to your home.